The 34th Hutton Roof Fell Race
SATURDAY MAY 25th 2019
Data Protection Notice : By entering you agree that we may publish your Personal Information as part of the results of the Event and may pass such information to the governing body or any affiliated organisation for the purpose of insurance, licences or for publishing results either for the event alone or combined with or compared to other events. Results may include (but not be limited to) name, any club affiliation, race times and age category
Click here to see all the results on TimingUpNorth.
Nick Leigh (Horwich) won the race at his first attempt in 51:49 collecting the Sheepskin Warehouse Trophy. He was closely followed by Darren Kay (Calder Valley) in 52:16.
This is the 4th time Darren will be putting his name on the Will Ramsbotham Memorial Cup, he was second in 2005, 2008 and 2015 too!
History was also repeated in the ladies race with Victoria Wilkinson winning for the 4th time, in 3rd place overall in a time of 53:40!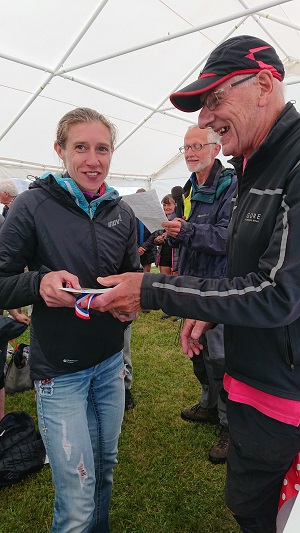 Victora Wilkinson, Ladies' winner, 3rd overall! Getting her trophy from Pete Bland, one of the founders of the race.