This was my first fell race as organiser,having been part of the country fair side of the event for quite a few years. Only thanks to the help and support of John Dickinson – organiser for the last 10 years, Jane Dickinson and the great team they, and previous organisers, have built up, and to all the new members of the team, it has been a fantastic event. The support for the event in this village is second to none. At least 25 people are required to put on the fell race, and at least as many again to prepare for and run the country fair. In a village with about 100 houses, it is quite an achievement.
Several experienced marshals and time keepers were away this year, but we were able to get some new starters involved and they have all done a great job. I think a special mention is due for Peter, our time keeper of many years, who had moved last year, but came back for the day to take his usual position on the team. Mark, who moved in to Peter's house, has naturally been enrolled!
With the first real summer's day of the year, we couldn't have had better weather. We had a fantastic turn out – 261 senior starters and 88 juniors, I needn't have worried that the change of organiser would put people off. I could not have coped on the day without John and Jane and the rest of the team doing what they usually do and me working flat out too! Thank you to everyone who came and for the compliments made on the event, and also for the suggestions for further improvements for next year. The numbers of runners meant we had some bottlenecks for example.
Juniors
Simon Schofield, organiser for the juniors, was also flat out all day, good training for the marathon in Edinburgh the next day! The youngsters all competed brilliantly, runners representing 22 clubs and schools, with Ambleside sending 8 runners and Settle Harriers 9. Hannah Willison was awarded the Hutton Roof Cup for first local junior.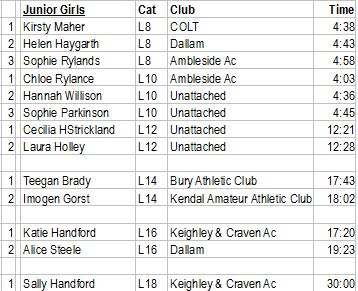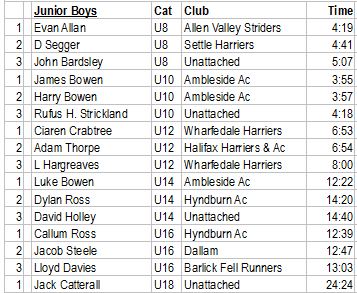 Seniors
Local heroes were out in force and set a blistering pace across the limestone outcrops of Hutton Roof crag. Paul Dugdale surged into the lead as they descended Farleton Knott and offered to show Rob Jebb 'how its done!' He knew his moment of Glory would only be short lived, however, and had to settle for 3rd place as they stormed back to the finish. The runners were of a high standard this year with almost 200 finishing within 30 mins of the winning time. Rob Jebb stayed for the prize giving before cycling back to Staveley!
So Rob Jebb (Bingley Harriers) was the winner in 49.12, 11 seconds faster than last year's winner, followed by Mark Addison of Helm Hill in 49:25. Paul Dugdale, Kendal AAC, also first V45, came in 3rd with 50:55. 1st V40 was Paul Crabtree (Wharefedale, 53:33), 2nd Brian Taylor (Ellenborough, 54:00) and 3rd Andy Thorpe (Calder, 54:52). Fastest V50 was Chris Davis (Saddleworth, 57:40), V60 Jackie Winn (Ellenborough, 59:29), V70 Peter Hall (Barrow, 67:12). Helm Hill won the men's team race again: Mark Addison, Robin Stones and Craig Burrow, second was Wharefedale – confusingly consisting of 2 Paul Crabrees and Paul Lambert!
The ladies race was won by Mary Wilkinson in 54.19, over 3 minutes faster than last year's winner, with Clare Pearson in second (62:06) and Lynn Clough in 3rd running 62:53. The ladies team prize was won by Wharfedale (Clare Pearson, Rachel Hill and Christine Whitaker). Ladies V40 was Rachel Hill (63:50) while V50 and V60 were a repeat of last year : Rowena Brown (65:43) and Wendy Dodds (71:18).
70 clubs were represented on the day, many with a single member, but Helm Hill, Clayton Le Moors Harriers, Wharfedale Harriers and Bowland Fell Runners all sent 15 or more runners!
I know next year's event is going to to be a little bit easier, now I think I really know what it takes, but how on earth am I going to get the weather again?
Next year's race is on Saturday 24th May, hope to see you then.
Eve Simpson & John Dickinson
Race Organiser.